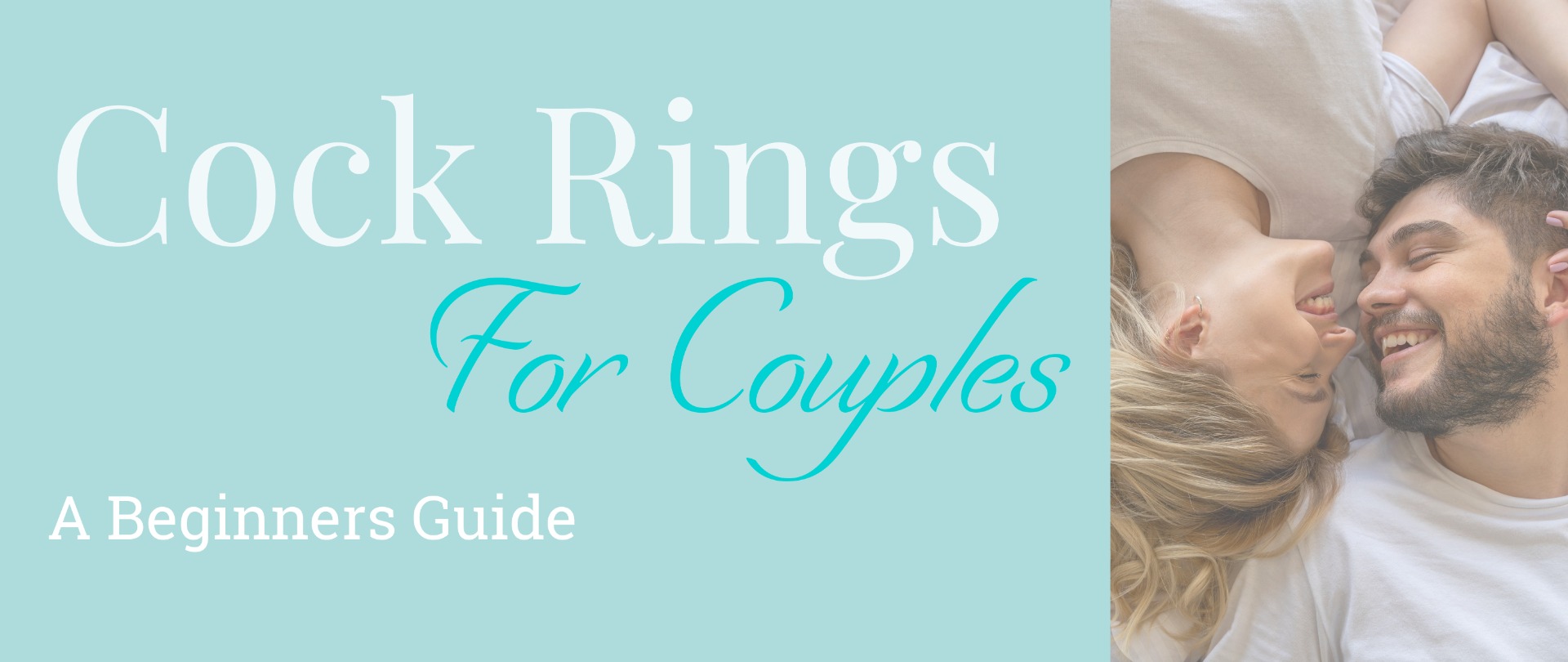 The Benefits of Cock Rings for Couples!
Cock rings are a small but mighty sex toy that can be used in many ways and be pleasurable for both the man and women! So, if you think cock rings are purely for men, you have been fooled there! I'm going to share some of our best-selling couples' rings.
Traditionally, a cock ring's main function is to make erections bigger and harder, and it can also make you last longer in bed, which is why they work well as a tool to help erectile dysfunction. They all work similarly, they are normally stretchy silicone rings that are made to go around the base of the penis (and often around the balls as well), creating a constrictive effect that allows blood to flow into the penis as you get turned on but prevents blood flow from leaving too easily. The result is a harder, more sensitive, long-lasting erection. Cock rings may also result in significantly stronger orgasms by delaying ejaculation for a more intense climax.
You can also use vibrating cock rings in other ways than just penetrative sex. We love how multipurpose they are! You can make a hand job feel more pleasurable or during a blowjob, double that pleasure for your man! Some vibrating cock rings have a removable bullet, so you effectively have 2 toys in 1. You can use that bullet to stimulate other areas of the body, the clit, nipples, testicles, anywhere you like (just not for anal play).
So why are they great for women as well? Well, vibrating cock rings are the ones that will benefit both parties. When a man wears a vibrating cock ring, firstly the vibrations will travel through the penis and when you are having penetrate sex, the women will feel these vibrations in the vagina. Also, depending on the position you are in, if the woman is on top, she could feel the ears or bullet part of the cock ring (depending on the cock ring) on her clit. And these can be for both new and experienced couples. They come in all shapes, sizes, and designs. We sell battery powered, rechargeable, remote control and app control, so there is one for every couple! (And yes, you read that correctly, app controllable so the woman could control your sex toy from anywhere in the world!).
For some couples that are new to sex toys, a cock ring is one of the first type of toys to try. It's not too big or invasive and they are easy to use. Some people underestimate a cock ring and haven't tried one because of this, but you should! There aren't many types of toys out there that both men and women can experience together at the same time, so why miss out on the opportunity.
Let's start with what materials they come in; silicone, phthalate free and TPE/TPR. All these materials require cleaning, so when you use any sex toy, you should use anti-bacterial sex toy cleaner after every use, as bacteria can build up in the pores of these types of materials. Also, the type of lubricant you should use on these materials is a water-based lubricant only, not silicone as silicone lube can damage your silicone toy. Using a water-based lube can make using these toys easier to get on and off and adds sensation. Going back to the materials, silicone can be more restrictive or snug, whereas the phthalate free is roomier and giving. It's always good to experiment and see which one you both prefer. A little tip; if you choose a silicone ring and it is a little tight for you, just gently stretch the material for a minute or so and that should help loosen the material up. When shopping in a store, the box will tell you what the material is, or the trained member of staff can advise you.
Let's start with the Me You Us Hopping Hare. This is made from TPE so the ring itself is stretchy and comfortable for the wearer. It has rabbit ears for the clitoral stimulation part and has 7 different functions, great for beginners. The Maxx Men Vibrating Cocktie has a thin silicone loop with a bullet attached as well as a tongue shaped clitoral stimulation part and has 10 different functions. This ring is adjustable so it's great if you want full control over how tight the ring is.
The Nu Senseulle Double Action cock ring is made from a special SEBS material which is super stretchy and has two rechargeable bullets so is more powerful than battery powered. It is also waterproof so great for fun in the shower and has 7 vibration functions on each bullet which can be controlled independently, so it can have 49 separate combinations. Another great cock ring by Nu Sensuelle is the Remote-Control Bullet Ring. This cock ring has a remote control so the other partner can control it wherever you like, so if you're taking a walk, you can secretly give your partner pleasure. This is also rechargeable, is made from SEBS material, waterproof and has 15 functions.
For an app controllable cock ring, Satisfyer has a few different products. The Signet Ring has a ribbed structure and soft to touch silicone and has 10 different functions as well as an unending range of programs on the Satisfyer Connect App, great for couples who want to use it long distance or out in public. The Satisfyer Sniper is another app controllable cock ring, with 2 loops, 1 of which is adjustable and has a strong motor, rechargeable and, like all Satisfyer toys, are waterproof which can be submerged up to 1 meter underwater, for up to 30 minutes.
So, you can see how much choice there is for couples when it comes to vibrating cock rings, we all love variety! If you've not tried a cock ring, give it go! There is so much fun to be had with these, any excuse to try for new and exciting orgasms, and we are all down for that, aren't we ladies and gents? And for you single men, don't worry, vibrating cock rings will give you extra pleasure too, and will take solo masturbation to the next level. Pop in-store to check out these amazing products!
Jasmine Martin.